I'm really going to have to devote an entire display case to just things I've gotten from trades with the wonderful people here.
Back in 1988 or 1989, my grandmother took me to Toy Liquidators in Eddyville, Kentucky and got me both Dreadwind and Darkwind. Some quarter century later, I still have them both: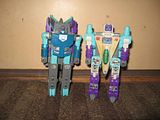 So, what's significant about that? Well, a week ago, I got two boxes in the mail from Scotland and Finland. Mr. numbat sent me a complete Doubledealer (and an RID Omega Prime, and...), and Mr. Osku sent me the remainder of parts needed for the Overlord he started to piece together for me back in 2006 or 2007. So, in absolute synchronicity, I completed/acquired the
other two
Decepticon Powermasters in the same day twenty five years after the first pair. How's that for serendipity?
So, I would like to take this time to thank them, and praise our helpful little community as a whole. I really appreciate it! I'm going to start posting stuff received from members in this thread going forward, and encourage everyone else to do so as well. Cheers!