Great day, epic honeymoon.
LOOT >>>>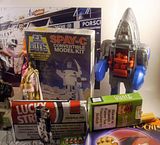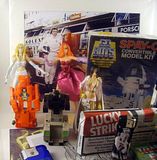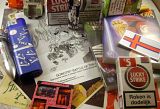 And now to channel Criswell for a moment:
- It's a pen, not a dildo.
- I've screwed up the picture, the cover has "Cosmocats" on it which was epic enough to be worth a buy.
- You're right, that is an enormous cigarette lighter
- Yes, I did find a lobbycard from Battle of the Rock Lords in a Dutch flea market, and no, nothing like the scene pictured happens in the film.
- It's got the French dub of MTMTE on it I think, but I haven't had chance to watch it yet. Nice cover.
- I did buy a lot of porn, it's just not in the picture.
- Space Oddity on Princenstade, about a block up from Anne Frank's house.
- Emma Frost is a bit scary.
- If anyone can ID the anime babe I'd be grateful.
- The Faroe Islands. No, no idea why either.
Amsterdam in short had a couple of good places for geek stuff. Paris wasn't as good (though we missed out on the big flea market due to timing) but better than I expected it to be.