Figured I would give this idea a shot- one thread where we can post new and updated pics of whatever Non-TF stuff we collect. Starting off, here's some updated GL and mixed figs I've picked up in the last couple weeks:
I know I showed the Evolution sets before, so I won't go into much detail over those. The Godzilla (or
Gojira
, depending on your preference) has been in my living room since I was 12. He's seen a lot of toy collections come and go, but still remains. If anyone ever watched the show
Roseanne
, you will get the meaning. Next to him is Dr. Manhattan, whom I really dug as a character and toy. He comes with two sets of legs: one for the elevated Jesus Christ Pose (shown) and another for standing with knee and hip joints. One thing I didn't understand with this figure was that, when you open the package, there is a bag of three items: 2 pegs to insert into the base, and some kind of triangular piece that I just can't figure out what the use is.
On the SW side of things, I decided to pick up the comic two pack of Storm Trooper and Governor Tarkin- only reason being I had to meet a ten dollar debit card minimum when I went to buy the latest issue of GL Corps. The Evolution Sets are way cooler in any event. Lastly, in the background is a LEGO set of the droid escape scene from Ep. 4.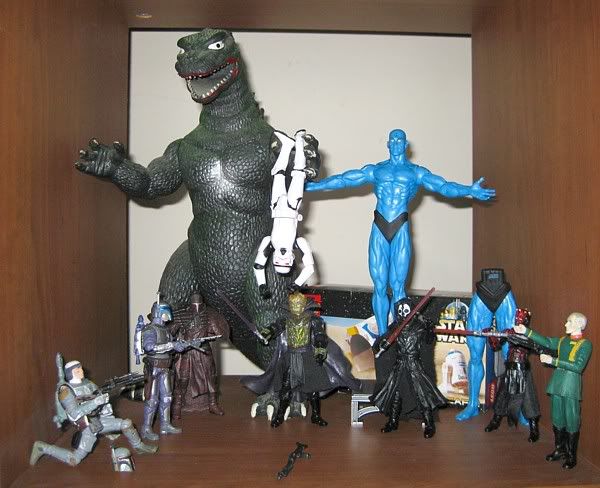 True Story: When I went to pick up the Guardians and Star Sapphire, I walked up to the counter and said "I'll take the chick with the two midgets." The guy behind the counter says "That's not the first time I've heard that."